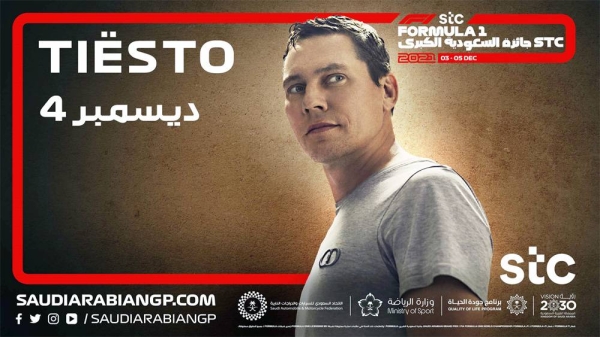 2021 Saudi Arabian Grand Prix announces double schedule for A-List weekend concert
Jeddah – The Saudi Arabian Automobile and Motorcycle Federation (SAMF), promoter of the 2021 STC Formula 1 Saudi Arabian Grand Prix, announced on Thursday global music icons and multi-million dollar sales superstars Justin Bieber , A $ AP Rocky and David Guetta as the title that will close the inaugural F1 race in Jeddah on Sunday December 5th.
Additionally, award-winning singer, songwriter and dancer Jason Derulo and iconic DJ Tiësto will head the post-qualifying concert on Saturday, December 4.
Each of these star-studded performances – two of three mega-concerts that will be staged each day of F1's first weekend in Saudi Arabia – will take place on the main stage of the Jeddah Corniche Circuit fanzone, the most recent, the longest and fastest in F1. street circuit just after the end of the first qualifying and Formula 1 race in Jeddah, Saturday and Sunday respectively.
To celebrate these dazzling additions to the weekend schedule, one-day grandstand tickets will also be made available to fans in addition to the 3-day weekend packages.
All ticket holders will have free access to concerts!
In addition to enjoying the pinnacle of motorsport and nightly concerts from some of the world's greatest music artists, ticket holders will also be able to experience the ever-popular Formula 2 series, renowned as a breeding ground for stars and champions. of F1, all weekend long. on the track as well as a series of interactive entertainment activities taking place on the circuit during the three days of the 2021 STC Formula 1 Saudi Arabian Grand Prix, all for the price of a ticket!
Spectators can therefore expect a full sports and entertainment program from Friday December 3 through Sunday December 5 on the brand new Jeddah Corniche Circuit.
Prince Khalid Bin Sultan Al-Abdullah Al-Faisal, President of the Saudi Arabian Automobile and Motorcycle Federation, was delighted to confirm the programming of Sunday evening's show: "The Saudi Arabian Grand Prix of Formula 1 STC 2021 is set to be the biggest and best sporting and entertainment event ever in the Kingdom and as such it was important that we had an unprecedented weekend of fun in Saudi Arabia.
"By confirming Justin Bieber, A $ AP Rocky and David Guetta as the headline headline to close Saudi Arabia's first F1 weekend – a day after Jason Derulo and Tiësto delivered their amazing live shows – we believe we have achieved this. goal.
"These global megastars are rightly considered some of the most electrifying and influential voices in music and we can't wait to see them bring their incredible live performances to our main stage in December.
"After every breathtaking day of racing on the track, these spectacular concerts will be the perfect way to help fans release their adrenaline and celebrate the arrival of F1 in Saudi Arabia in style. Don't miss this opportunity, buy your tickets now and we'll see you in Jeddah very soon!
Saturday, December 4, 2021
Jason derulo
Avant-garde, genre-defying and massively creative, Jason Derulo has established himself as one of the most dynamic forces in the global pop landscape. Since breaking through with his five-time platinum single "Whatcha Say" and selling over 200 million records worldwide, the award-winning singer-songwriter has produced an unstoppable string of immediately iconic hits and has collaborated with several some of the greatest pioneers in music, not to mention all-time legends like Stevie Wonder. His latest triumphs include emerging as one of TikTok's most influential users, boasting the 11th largest overall account on the video-sharing platform and the 4th most followed man. Now at work on his highly anticipated fifth album – and his first feature film since topping the 2015 charts Everything's 4 – Derulo recently delivered a string of hit singles while operating as a freelance artist.
Tiësto
Tiësto is an international Grammy Award winning and platinum certified icon. The DJ and producer is the only artist to hold the titles of "The Greatest DJ of All Time" courtesy of Mixmag, "# 1 DJ" according to Rolling Stone and "The Godfather of EDM" as proclaimed by Billboard. From his underground bangers on the dance floor to his high profile Las Vegas residency and crossover success, Tiësto has created the model that defines what it means to be successful in today's dance music world. . Like Tiësto, he continues to expand across genres, always making his profession evolve. Tiësto made history with his latest single "Don't Be Shy" with Karol G, which marked Karol G's first English song, and the first Latin artist collaboration for Tiësto. Stay tuned for more new music from Tiësto later this year.
Sunday 5 December 2021
Justin bieber
Justin Bieber's recent album JUSTICE features the worldwide hits "Peaches feat. Daniel Caesar & Giveon", "Holy" feat. Chance The Rapper, feat "Lonely". Benny Blanco, "Anyone" and "Hold On". domination as a live artist; from his triumphant return to the stage with his T-Mobile sponsored NYE live concert, to his record breaking performance on TikTok "Journals Live" to his stunning AR assisted performance for Spotify, to his epic Nickelodeon Kids' Choice Awards and the NPR blockbuster Tiny Desk Concert This week, Justin delivered undeniable and breathtaking performances.
A $ AP Rocky
Defended by fellow rapper Drake and magazine The Fader before the release of his first full-length project, self-proclaimed hood pariah A $ AP Rocky became one of the biggest stars of the 2010s. By the end of the decade, the rapper had two number one albums with Long.Live.A $ AP (2013) and At.Long.Last.A $ AP (2015), and a Top Ten entry with a third LP Testing (2018). Backed by A $ AP Mob and enthusiastic collaborators ranging from Kendrick Lamar and 2 Chainz to Skepta and Skrillex, Rocky himself has helped with hits titled by Selena Gomez ("Good for You"), G-Eazy ("No Limit "), and Famous Dex (" Pick It Up "). A $ AP Rocky, born Rakim Athelaston Mayers and also known as Lord Flacko, quit drugs in his native Harlem and began rapping after moving to Elmwood Park, New Jersey.
David Guetta
In 2020, David Guetta hosted a series of live broadcasts called United At Home that raised more than $ 1.7 million in COVID-19 relief while also breaking a Guinness World Record for the DJ set on most watched on Facebook. The shows presented from Miami, New York and the Louvre in Paris have attracted more than 75 million viewers. Last year, he was also crowned the world's No.1 DJ, winning for the second time the annual DJ Mag Top 100 Poll – nearly a decade after taking # 1 in 2011. "When l 'love takes over', the first single from her 2009 album 'One Love', UK # 1 hit, the Black Eyed Peas song produced by Guetta "I Gotta Feeling" became a worldwide hit, in the lead charts in 17 countries. Over the next decade, Guetta's success was off the charts. Globally, he has racked up over 50 million record sales, while his total stream count exceeds 10 billion. He has received numerous Platinum and Gold certifications and was twice voted the world's No. 1 DJ, was named "EDM Power Player" by Billboard and won two Grammy Awards out of six nominations. – SG