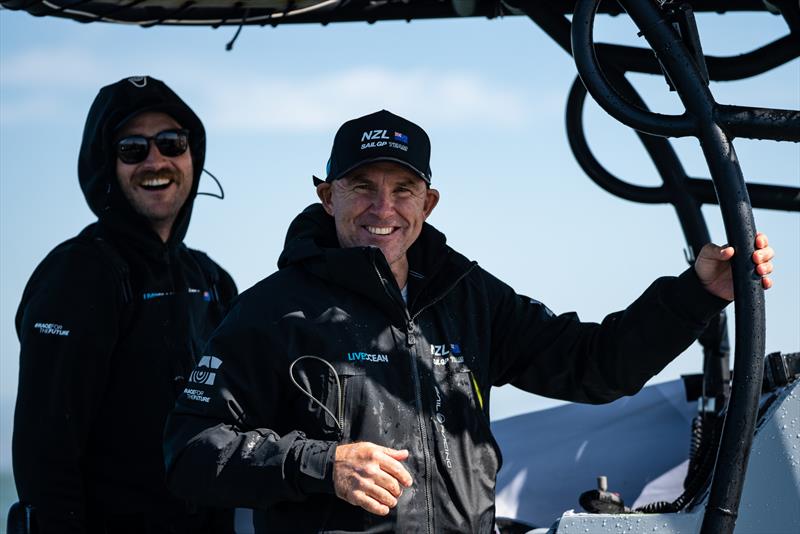 America's Cup winning coach takes on dual role with NZSailGP team
SailGP: America's Cup-winning coach takes on dual role with NZSailGP team
by James Rigby/NZSailGP Mar 21 23:10 UTC
March 22, 2022
New Zealand SailGP Team Head Coach Ray Davies smiles from the NZL chase boat during a practice session ahead of the San Francisco SailGP Season 2 in San Francisco, USA. March 20 © Beau Outteridge/SailGP
Ray Davies, New Zealand SailGP Coach, helps prepare the New Zealand SailGP Team F50 catamaran in the technical area ahead of San Francisco SailGP, Season 2 © Ricardo Pinto/SailGP

The New Zealand SailGP team has been bolstered by the appointment of long-time ETNZ Sailing team member Ray Davies as coach. But he will lose Finnish world champions Josh Junior for the final event of season 2, in San Francisco this weekend.
An incredibly capable sailor with over 20 years of experience in America's Cup campaigns, Davies brings a wealth of knowledge to the New Zealand SailGP team.
He joins the team as a continuation of his primary role with Emirates Team New Zealand, where he leads the sailing team's on-water performance.
Davies said: "It's fantastic to join the New Zealand SailGP team. I've worked with many athletes on this team over the years and really welcome the opportunity to help them succeed. To have this group together consistently in different race formats through the America's Cup and SailGP is a powerful combination."
Peter Burling, co-CEO of the New Zealand SailGP team, said: "It's great to have Ray on board. He's someone a lot of our team members have worked with and has a relationship with. very strong since we joined Emirates Team New Zealand.
"He's obviously a very skilled and analytical sailor and has spent a lot of time sailing these waters in San Francisco, so it's great to have him here for this event as well as Season 3."
New Zealand's SailGP team have been slow to find their feet at the start of the season without a coach, and Burling believes Davies' appointment will help the team take it to the next level.
"Ray's role within the team will be to make sure everyone is getting the most out of themselves and that the team is really maximizing their performance. He will be key in helping us through pre-briefing, debriefing and making sure we continue to improve on the water, that's something we felt we were a little lacking in the last two events to be able to make those adjustments and improve over the course of the day , so Ray is really going to help us with that.
"He has great attention to detail and is great at working with large groups. There are a lot of different elements that make things work and he's a great character to bring it all together."
Davies said with data available to all SailGP teams through Oracle Cloud, there were many opportunities to find efficiencies.
"There's so much data available to us that our goal is to make sure the boat is sailing as efficiently as possible, comparing how we're sailing against other teams to make sure that if someone has a speed advantage, we find out why and get on top of that early, analyze the videos and make sure first and foremost that we sail the boat really well and that we don't lose any races because of boat handling or communication. first tidy up that side then we will focus on racing around the track like a normal yacht race.
"With this exciting racing format with many high performing boats racing at high speeds over a tight course, how the team reacts in real time and the positioning of the boat has a huge impact on the end result."
After more than three months since the last SailGP event, New Zealand's F50 Amokura landed in San Francisco Bay on Saturday for the team's first practice session ahead of the Mubadala United States Sailing Grand Prix.
The fleet spent the last two days in the South Bay near the Tech Site getting back into shape.
Grinder Josh Junior has been ruled out of the Mubadala USA Sailing Grand Prix after undergoing minor knee surgery last month.
James Wierzbowski, who starred for New Zealand in the Italian and British sailing Grands Prix, joins the team in Junior's absence. Wierzbowski will also cover Andy Maloney as flight controller when SailGP Season 3 opens in Bermuda in May, with Maloney and his wife expecting their first baby.
Currently sitting fifth overall, New Zealand are unable to qualify for the US$1 million Grand Final Championship race, but Burling is eyeing a big performance in San Francisco.
"The team's objective this week is to make great progress and finish the season with a bang. We have a great chance of securing fourth place in the league, which is our goal.
"I really felt that in the last three events (French, Spanish and Australian sailing Grands Prix) we had a good chance each time of qualifying for the final and that we didn't quite get there, so it will be really nice to finish out of season strongly."
Although the New Zealand team SailGP cannot claim the top prize on the water, they are on the verge of lifting the inaugural Impact League trophy.
A second ranking that runs alongside the season championship, the Impact League tracks the positive actions teams are taking to reduce their overall footprint and help accelerate inclusiveness in sailing.
There will be two podium finishes in San Francisco, with the Impact League winner crowned alongside the season champion and taking home a $100,000 prize for partner Race for the Future.
New Zealand have topped the Impact League since its inception this season and currently hold a sizable lead at the top of the standings, 51 points ahead of second-placed Great Britain.

SailGP racing for a better future, championing a world powered by nature. The world's most thrilling water race, SailGP, features national teams competing in short, intense races at iconic stadium-style venues around the world, leading to the grand finale – and the top prize. US$1 million sail. The high-tech, high-speed action features sailing's top athletes racing in identical F50 hydrofoil catamarans, flying at speeds approaching 100 km/h. Visit SailGP.com for more information.

ocean live is a marine conservation foundation committed to scaling up action for the ocean. Founded by sailors and ocean champions Peter Burling and Blair Tuke, the foundation is stepping up marine science, innovation and awareness to connect and ignite people around the role a healthy ocean plays in a healthy future. We work in partnership with outstanding New Zealand marine scientists, innovators and communicators whose work has global implications for the protection of the ocean and the life in it. To have a healthy future, we must have a healthy ocean.