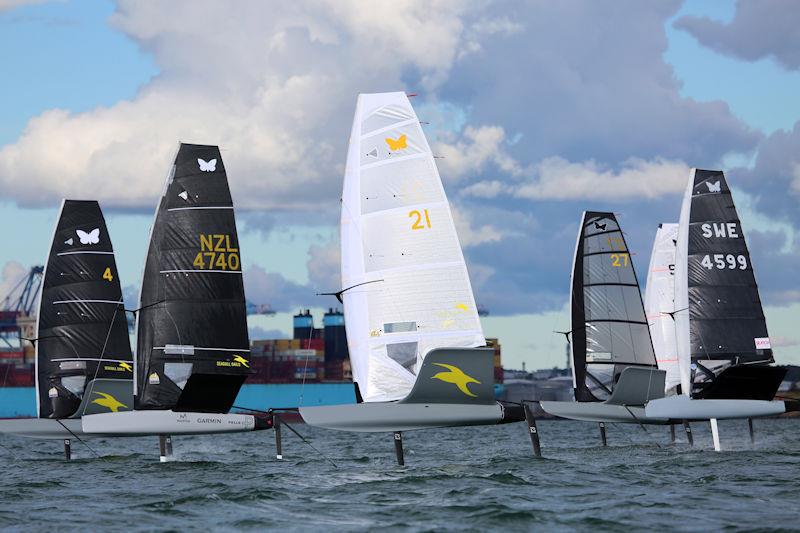 Doyle Sails Swedish National Moth Championship
Doyle Sails Swedish National Moth Championship – Overall
by Swedish Moth Association Sep 19 05:45 UTC
September 16-18, 2022

The final day of the Doyle Sails Swedish Moth Nationals got off to a slow start with a postponement ashore as the race committee waited for the breeze to pick up. With 4 races scheduled, the sailors were finally dispatched. After 30 minutes of sailing at low altitude, the breeze rises well to 8-12 knots coming from the north.
Race 1 started with Fredrik Melson (DEN) taking the lead and not letting go. Tom Johnson (AUS) was on the hunt, and both boats met at the finish with Melson taking the ball.
Race 2 saw Tom Johnson, Kyle Langford and Dave Gilmour battling for the lead, but poor boat handling from Langford and Gilmour saw Johnson drift away to an impossible to grab lead. Gilmour retained 2nd place while Langford fell back to 5th, allowing Danny Inkyov and Phil Robertson to sneak past.
No race after 3:00 p.m. meant the full schedule could not be completed, so the race committee kicked off race 7 of the series, seeing a close battle between Phil Robertson, Dave Gilmour and Kyle Langford where the lead was constantly changing and This was not the case. until the final wind of the 3 lap course that Robertson beat to take his 4th ball of the championships and secure the title.
Second place went to Dave Gilmour who competed in a regular event, sailing his new Exploder with a new Doyle sail in development. Kyle Langford completed the podium after ruling out a DNF from yesterday's race. The first Swedish sailor went to Danny Inkyov (finishing 4th) who had one of the best boat maneuvers there in the variety of conditions encountered.
In order to add a little more fun and incentive to the whole fleet, the sailors were split into 3 groups using the top seeds from the pre-event exhibition series, which saw Phil Roberston taking Division 1, Fredrik Melson finishing 5th overall took Division 2, and Adriano Petrino, who finished 10th, won the Doyle Sails award for Division 3 and the women's first prize went to Katja Salskov-Iverson using the unconventional "Bat wing" sail designed for sailors under 70 kg.
"It's great to have so many good sailors here racing in Sweden and hopefully we can use this momentum to help grow the class in the Nordics and bring more young sailors onto the water with us." , commented Phil Robertson as he accepted the winners' trophy.
Special thanks to GKSS and volunteers for hosting and organizing the event and to Doyle Sails Sweden for sponsoring the event.

Overall results:
| Pos | Closed off | Nat | Veil No | club | R1 | R2 | R3 | R4 | R5 | R6 | R7 | Points |
| --- | --- | --- | --- | --- | --- | --- | --- | --- | --- | --- | --- | --- |
| 1st | Phil Robertson | NZL | 4740 | GKSS | 2 | 1 | 1 | 1 | 3 | -4 | 1 | 9 |
| 2nd | David Gilmour | SWED | 21 | GKSS | 3 | 4 | 2 | 4 | -8 | 2 | 4 | 19 |
| 3rd | Kyle Langford | SWED | 4 | GKSS | 1 | 2 | (DNF) | seven | seven | 5 | 2 | 24 |
| 4th | Danny Inkyov | SWED | 4599 | | 6 | 6 | 4 | 3 | 4 | 3 | -9 | 26 |
| 5th | Frederik Melson | UK | 4778 | | 8 | seven | 3 | 8 | 1 | -9 | 5 | 32 |
| 6th | Samuel Gilmour | AU | 4862 | GKSS/RFBYC | seven | 3 | 5 | 5 | 9 | -11 | 6 | 35 |
| 7th | Emil Järudd | SWED | 4330 | KSSS | -12 | 5 | 6 | 9 | 5 | 6 | seven | 38 |
| 8th | Tom Johnson | LAIR | 27 | | (DNC) | 11 | DNC | 2 | 2 | 1 | 3 | 39 |
| 9th | Michal Korneszczuk | POL | 4674 | YGC | 4 | ten | 8 | 6 | 6 | ten | -14 | 44 |
| 10th | Adrian Petrino | SU | 4404 | Hellerup Sejlklubb | 5 | (DNC) | ten | 14 | ten | 8 | 8 | 55 |
| 11th | Frederic Appelberg | SWED | 4462 | KSSS | 11 | -13 | 9 | ten | 11 | seven | 12 | 60 |
| 12th | Anders Nörrelykke | SU | 44 | Hellerup Sejlklub | ten | 12 | 12 | 12 | -14 | 13 | 13 | 72 |
| 13th | Katja Salskov‑lversen | LAIR | 41 | Hellerup Seljklub | (DNF) | 9 | seven | 13 | 15 | DNF | 16 | 80 |
| 14th | Fredrik Bergstrom | SWED | 4252 | | (DNC) | 8 | 13 | 16 | 13 | DNF | ten | 80 |
| 15th | oscar andersson | SWED | 474 | GKSS | (DNC) | DNC | DNC | 11 | 12 | 12 | 11 | 86 |
| 16th | Max Salminen | SWED | 4508 | GKSS | 9 | (DNC) | 11 | 15 | 17 | DNF | 15 | 87 |
| 17th | Keith Swinton | AU | 4516 | | (DNC) | DNC | DNC | DNC | 16 | DNF | DNS | 116 |
| 18th | Tomasz Flissak | UK | 4067 | Baxa Mragowo | (DNC) | DNC | DNC | DNC | DNS | DNS | DNS | 120 |
| 18th | Jesper Stälheim | SWED | | KSSS | (DNC) | DNC | DNC | DNC | DNC | DNC | DNC | 120 |