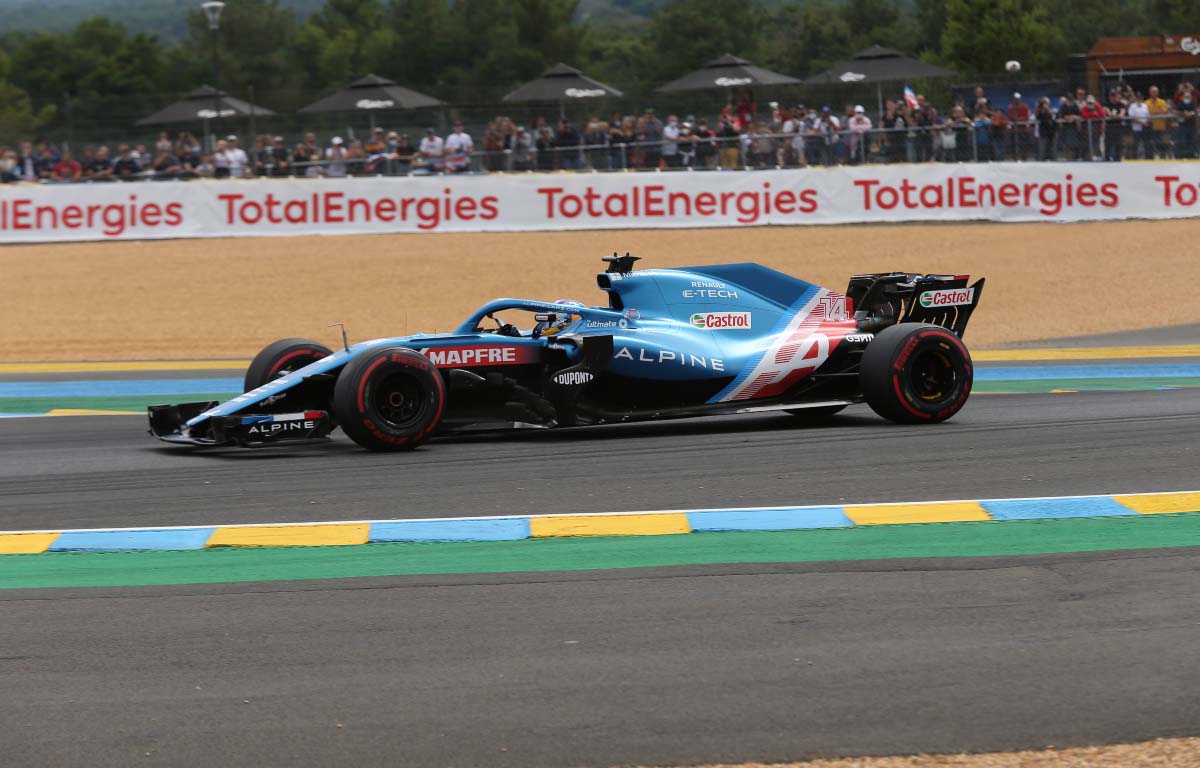 Fernando Alonso: Le Mans "too narrow and fast" for F1
After completing the first lap of Le Mans in a historic Formula 1, Fernando Alonso does not think the circuit is suitable for F1 machines.
The two-time former world champion traveled to the Circuit de la Sarthe at the wheel of an Alpine-branded Renault F1 to celebrate Alpine's motorsport offers ahead of the 2021 24 Hours of Le Mans.
The world-famous track, which is partly a purpose-built circuit and partly on a public road, is almost double the length of Spa-Francorchamps – and Formula 1 races have never taken place there.
Former Sauber driver Kamui Kobayashi and his Toyota teammates claimed the overall victory in the Hypercar category in the race.
Kobayashi himself set the lap record on the track in 2017, circling the 8.5 mile circuit in 3: 14.791 in qualifying. Alonso says F1 cars would be able to go much faster than that time, but he doesn't think the circuit would be suitable for hosting a grand prix.
"I think the simulation [lap time] says something in less than three minutes, "Alonso told reporters in Belgium, as quoted by Motorsport.com. "But then you have to run the trick. And it wasn't that easy because honestly with F1 I found the long straights to be a bit unusual for our tires, our cars.
"The braking points after the long straights were a bit tricky because the front tires were trying to lock up and things like that. So if you really go there and push, it will be quite stressful.
"In a way, I was glad it was just a show ride!"
Fernando Alonso demonstrated on an Alpine before the # LeMans24 started, which was the first time in history that a Formula 1 car made the circuit of the Circuit de la Sarthe 😍 # F1 pic.twitter.com/65LCH3xpeb

– PlanetF1 (@ Planet_F1) August 21, 2021
Check out all the latest 2021 team clothing via the official Formula 1 store
Alonso, double winner of the 24 Hours of Le Mans, did not lag during his demonstration, preferring to surpass himself rather than move for the fans.
While he said the car was set up to circle the Circuit de la Sarthe quickly, he doesn't think the track in its current state will be able to accommodate a race in the near future.
"It could be fun to run over there. I think it won't take too long in terms of preparation or engineering to go to tracks like Le Mans, "he said.
"Even with a very short time, I think our car was basically ready for this demo lap. And it was close to a racing situation.
"But I don't know, at these speeds and speaking of safety standards, we'll probably have to change a few things on the track itself.
"It would be way too fast and way too narrow in some sections of the straights. So potentially that would require some changes, more on the right track than fundamentally on the part of the F1 community. "