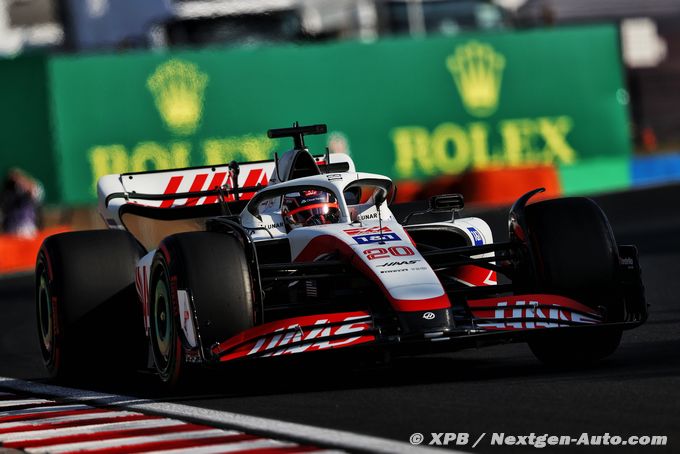 Formula 1 | Magnussen unveils new package at Haas F1
Kevin Magnussen debuted the improved VF-22 package in FP1 while Mick Schumacher – on the unevolved chassis – used the same tires in this session for comparison.
Both cars started on hard Pirelli tyres. Then the drivers switched to soft tires and Magnussen lapped a lap in 1:20.921 (P17) while Schumacher clocked 1:21.027 (P18). To conclude the session, the two drivers then switched back to hard tires and drove with a large quantity of petrol.
This afternoon, both drivers first took to the track on medium tires – each driver completed a nine-lap stint. A qualifying simulation followed with a return to soft compound for six laps. Magnussen set the best time in 1:19.818 (P16) while Schumacher placed just behind his teammate in 1:19.985 (P17). With 15 minutes to go, the two cars set off one last time for a long stint on medium tires and full of fuel.
"It wasn't a bad session for us today, said Magnussen. "We're just trying to find the new package on my car and there's still some work to do – but at the moment it looks promising. We need to work a bit more on the balance, we haven't really found where go with that."
"The new parts seem to work well, we had no issues with that and the feel in the car was pretty good. It was basically more or less what we expected, so I'm happy. As I I said there is still a lot of work to be done to extract more and that will be done over time but so far so good we hope to get higher on the grid tomorrow we are forecasting rain and so we will see ", adds the Dane.
"It was quite tricky" Schumacher said. "I had a problem with my front wing in TH2 so it didn't give the downforce it should have. We'll look at that, but overall it wasn't a bad session. It's just a matter of getting used to this track with these new cars. We are looking at where the bumps are on the track at the moment and also trying to adapt the car setup to what we need here. We still need to work a bit on the high and low fuel levels, but our main focus at the moment is to run on plenty of gas. Usually in the wet our car is quite competitive, so hopefully it will rain tomorrow. If we do everything perfectly, we should be reasonably competitive. »