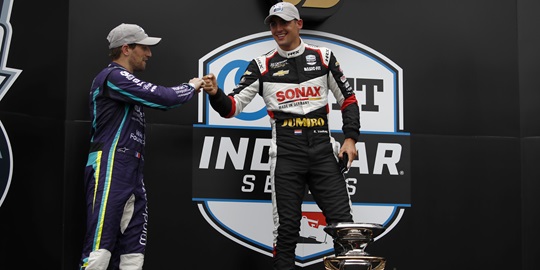 Indianapolis Motor Circuit
N ° 10: VeeKay, Grosjean Shine in Grand Prix GMR
To note: The editorial staff of IMS.com looks back on the 10 biggest moments of 2021 at Indianapolis Motor Speedway in this year-end series, with one installment appearing on the site per day in countdown mode from December 22 to 31. .
May 2021 at Indianapolis Motor Speedway got off to an incredible start with the GMR Grand Prix on the IMS Road Course, setting the tone for what would not only be an exciting Indianapolis 500 presented by Gainbridge, but a season to remember at the Capital. world of races.
The action-packed race on the 14-turn, 2,439-mile circuit turned out to be a battle between rising star Rinus VeeKay and Formula 1 veteran Romain Grosjean. Both drivers had shown signs of greatness during their relatively young careers in the NTT INDYCAR SERIES, but they took it to a new level on May 15th.
VeeKay, at 20, weathered the international motor racing star to claim his first career victory in his 19th series start with a 4.9510-second victory over Grosjean in the No.21 Chevrolet Sonax for Ed Carpenter Racing. The wide margin of victory betrays the thrills of the day.
VeeKay produced one of the most memorable moments of the entire NTT INDYCAR SERIES season with a turn 7 pass on lap 41. VeeKay came out of the pits and was trying to gain every inch and jump Grosjean during the pit lane.
Coming down the stretch, he drafted side-by-side teammates Alex Palou and Jimmie Johnson before heading to the tight left corner. Instead of taking it slow, VeeKay split the difference and won between and past the Chip Ganassi Racing riders.
On the other end of the spectrum was Grosjean, who was making his third career debut in the NTT INDYCAR SERIES. He joined Dale Coyne Racing with Rick Ware Racing to drive the No.51 on road and urban courses after a fiery end to his F1 career at the end of 2020 in Bahrain.
He had shown in races at Barber Motorsports Park and in St. Petersburg that he might have what it takes to be successful in North America's first single-seater series, but Grosjean took it to a whole another level during the GMR Grand Prix.
Grosjean won the NTT P1 Award for pole to cheers from the socially distant crowd at IMS for his first pole position since winning first place in GP2 – the final ladder series leading to F1 – in May 2011 in Istanbul, Turkey.
Driving the # 51 Honda Nurtec ODT, Grosjean struggled with the worry of leading his first pitched start on race day and led a record 44 laps before finishing second behind VeeKay. It was his first podium since 2015 at Spa-Francorchamps, Belgium, with Lotus in F1.
This race helped the NTT INDYCAR SERIES realize that VeeKay should be a force for years to come and that Grosjean could become the fan favorite star driver he never knew he had.