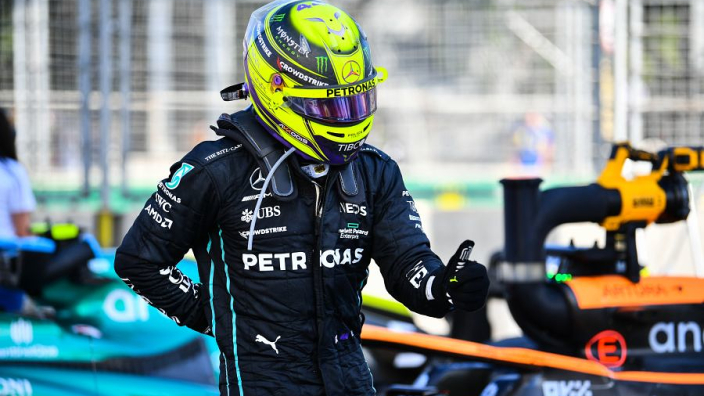 Lewis Hamilton reveals near misses after going through 'most painful race' of his F1 career
Lewis Hamilton has revealed he nearly crashed several times due to the violent nature of his Mercedes after enduring "the most painful race" of his F1 career.
The seven-time F1 champion also claimed he had considered retiring on several occasions due to severe back pain caused by the turbulent bouncing of a car which team principal Toto Wolff said " ****box".
Hamilton managed to drag his W13 to the checkered flag and fourth place, but at the finish the 37-year-old Briton barely managed to climb out of the cockpit of his car, such was his discomfort after his to be parked in the parc fermé.
When asked how he felt after the race, Hamilton replied: "Pain. Very, very painful.
"It was the most painful race I've had, the hardest race I've had."
On whether he had any concerns about the finish, he said: "Yeah, there were a lot of times where I didn't know if I was going to make it, if I was going to keep the car on the right track. way.
"I don't know if you saw at high speed, I almost lost several times at high speed, so the battle with the car was intense.
"And then at the end, the last 10 laps, my back was just…I had to go inside – 'You got this, you can do this, just put up with it'.
"The thing was bouncing so much that sometimes I was almost going into the wall.
"The concern is, in terms of safety, at 180 miles an hour, hitting a wall, I don't think I've ever given too much thought to that as a racing driver.
"You don't really think about keeping him off the wall at such high speed. It was a very strange experience."
Hamilton cools down
Apart from physiotherapy and acupuncture, Hamilton also revealed that he underwent an extreme form of treatment in a bid to complete the 51 laps on the streets of the Baku City Circuit.
"I did cryotherapy," Hamilton confirmed. "You walk in there and it's bloody cold. You have to go in internally again and say 'You can'. It's the same kind of thing, just bite and smile with it.
"[In the race] I had to think about all the people who are counting on me to get those points and that's really what I was focusing on.
"It's definitely the worst for me. I haven't had it that bad this year."