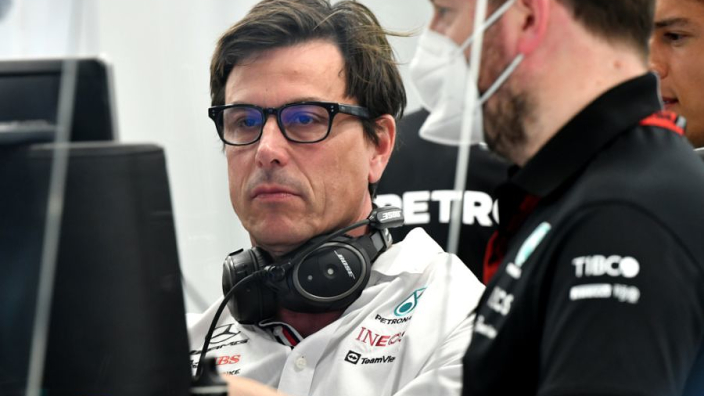 Mercedes budget cap hurdle applauded
Alpine team principal Otmar Szafnauer has applauded Mercedes for not being able to get out of trouble in F1's new regulatory era.
The eight-time defending constructors' champion found himself behind in the first three Grands Prix following the introduction of radical new aerodynamic rules.
With the W13s of Lewis Hamilton and George Russell badly affected by porpoising, a by-product of the ground effect phenomenon of new cars, Mercedes have fallen behind and already trail leaders Ferrari by 39 points.
Unlike previous years, however, Mercedes are stymied by the fact that they have only limited financial resources to find a solution, with F1 in the second year of budget cuts which for this season amount to $140m. .
Asked if it's encouraging that Mercedes have dropped the ball this season, Szafnauer replied: "Well, I think the budget cap really helps.
"In the past, they would have had money to spend on it and resources to devote to it.
"So now maybe one of the factors limiting their ability to spend their money on it is the budget cap.
"That helps too, and rightly so. It's the same for everyone, so let's not change it."
New era of F1 sparks interest
Heading into this weekend's Emilia-Romagna Grand Prix at Imola, Ferrari have quickly taken hold of the drivers' and constructors' championships.
Charles Leclerc in particular has taken two wins and finished second in all three races so far, as well as the fastest lap in each event.
Szafnauer is delighted with what F1 has conjured up so far with its new aero formula.
"From what I can see, and talking to friends of mine who are fans, it seems like a lot of interest," Szafnauer added.
"It's a mix now. We've had two different teams winning in a few races, so it's good, it's not the same team winning every time.
"Mercedes didn't win and they are second in the championship. I think it's okay.
"In midfield, anyone can be the best. We plan to be and we will work hard to make sure we are."