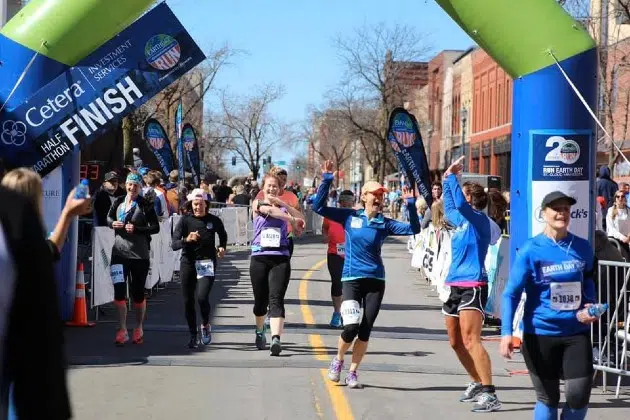 Registration opens for the 2022 Earth Day Run in St. Cloud
(KNSI) – Central Minnesota's premier marathon race returns in 2022. Registration is open for the CentraCare Earth Day Run after missing two years due to the pandemic. Race organizer Bill Corcoran says they hope to attract around 5,000 runners.
"It's a high bar given that we started a bit late and are coming out of a pandemic. There's a lot of pent-up demand and excitement in the community and some of these events still haven't happened. And so we think we're going to get closer to that 5,000."
Organizers are trying to bring more excitement to this year's race by turning the cheer zones, launched in 2019, into a fundraiser.
"You have to be chosen. If you're a nonprofit, you can apply and if your plan is good enough, you could be chosen for one of the five spots we have there. And if you're chosen, you automatically get $500 for your group.
He says there is a way to double that $500.
"They will compete for the top prize which is $1,000. And they will be voted on by the runners themselves. Runners will follow the course and at the end, via the Earth Day Run app, they can vote for their favorite cheer zone.
Corcoran says one event that has changed due to the pandemic is the Wellness Expo. It will now be held outdoors on 5th Avenue in downtown Saint-Cloud.
"We had to rethink what the expo will look like. And so, we decided, weather permitting, we're going to have the whole expo outside on Fifth Avenue. It will be a bit more of a street party or a block party.
Registrations are open by the races on April 15 and 16. The Earth Day Run includes the 5K Run, a 5K Corporate Team Challenge and a Wellness Challenge. There is also a 1 km for children, a half-marathon and a half-marathon relay. For more information or to register, click here.
___
Copyright 2022 Leighton Enterprises, Inc. All rights reserved. This material may not be broadcast, published, redistributed or rewritten in any way without consent.