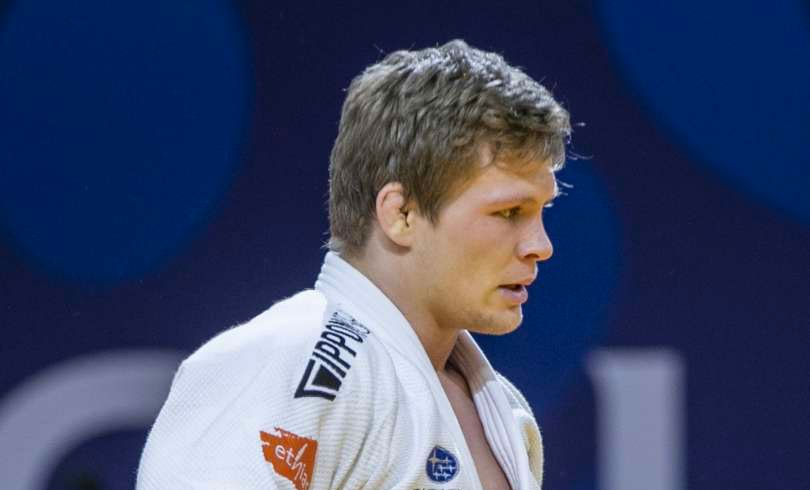 The Champion's Relief / IJF.org
On day one, the Netherlands and Croatia stroked gold and won silver. On the second, both confirmed having started the year with a positive dynamic and we are not talking about the Covid. Spain stumbled on the first day and corrected their shot on the second. Portugal made their premiere with splendor, but the power was cut on Saturday. From Hungary came a missing person, while Finland showed that without snow you can also live and Matthias Casse finally broke his special curse.
-63 kg women: generation Y
Dutch judoka Joanne Van Lieshout is 19 years old and when she smiles she has the face of a kind and responsible girl, a good student whom any couple would trust to take care of their children. On the tatami, she smiles only when she wins and lately she often does. She won the World Junior Championships in 2021 and opens 2022 with a final in the first tournament of the year.
Iva Oberan is Croatian, three years her senior, just a little more experience in the senior world, but with the same ambition. She is not world champion, not at the moment, but she already has continental medals. Everyone reaches the final, ready to fully enter the world of seniors!
Van Lieshout withstood two onslaughts from her rival, measured time and threw a quick ko-uchi-gari. It's her first gold medal on the World Judo Tour, so she's already a senior!
Joanne Van Lienshout
The first bronze medal went to the Czech Renata Zachova, who was able to stop another promising youngster from the Croatian school, Katarina Kristo. Spanish athlete, Cristina Cabaña Pérez, was heading like a rocket towards the final when she made a mistake in the semis and ended up with honey on her lips. In the fight for bronze against Romanian Florentina Ivanescu, the Spaniard made the same mistake by losing her concentration after scoring waza-ari. Cabaña Pérez also conceded a waza-ari and then a second. She found herself without gold and without bronze because Ivanescu knew how to take advantage of her moment.
The medals and checks were presented by Mrs. Ines de Medeiros, Mayor of the Municipality of Almada and Mrs. Telma Monteiro, Olympic bronze, 5 times world medalist and 15 times European and 5 times Olympian
-73 kg men: not the usual suspects
There is nothing unusual in seeing an Uzbek in the judo final. Seeing a Spanish judoka in the final is also less and less unusual. Another thing is the names. Murodjon Yuldoshev is more used to seventh place in tournaments than to the podium. In Lisbon, the Uzbek said something like "that's enough, now you'll see what you'll see". Salvador Cases Roca is a rather special young Spaniard because he does not have an exceptional technique like the great champions. What he has is a good base, a strong hip and a strong arm. In Lisbon he also had what is called a good day and reached the final after a course based on ippons.
Murodjon Yuldoshev defeats Salvador Cases Roca
In any case, it was an unprecedented final for the two on the World Judo Tour and no one wanted to make a prediction. Those who bet on Yuldoshev were right. The Uzbek won thanks to a powerful uchi-mata.
Murodjon Youldoshev
Mongolia has long been building a promising future, with a vast and diverse career. The results are excellent and facing one of this team is a guarantee of difficulty. Sod-Erdene fought for bronze against another judo promise, but this one from France: Joan-Benjamin Gaba. At the same time young, fast and dynamic, it was a fight with high revolutions, accelerated, almost express. The Mongol took the lead with waza-ari. The response was spectacular with a perfect harai-makikomi and bronze for the Frenchman. There was another Mongol waiting, a contender for the second bronze medal of the day. His name is Ankhzaya Lavjargal. There was also an equally determined Moldovan, Petru Pelivan. Lavjargal wins thanks to a morote-seoi-nage thirty seconds from the end.
Medals and checks were presented by Mr. José Manuel Constantino, President of the Portuguese Olympic Committee and Mr. Sergio Pina, Vice-President of the Portuguese Judo Federation
-70 kg women: Storytelling wind
We see that on Saturday at the Portuguese Grand Prix there was no need to be a favourite. Brazilian Maria Portela and Spaniard Ai Tsunoda were the announced scarecrows, with relatively affordable draws, being seeded has to be for something, maybe a golden future. It was the theory! In training, Portela crossed paths with Dutchman Jorien Visser. As we have already said, the Netherlands have largely exceeded the excesses at the end of the year. Visser was on her way to the final when she collided with Szabina Gercksak. When we last saw the Hungarian on a World Judo Tour podium, Ronaldinho and John Terry were still active. Little or nothing is known of her. In Lisbon, she reached the last step with a powerful, offensive and entertaining judo for the public. For their part, it is clear that Croatia is not limited to world champion Barbara Matic. There are quality women and we have all seen it in Portugal. To face Gercksak, Croatia sent Lara Cvjetko, 20, vice-champion of the Junior Worlds and silver medalist in a Grand Slam already hanging on the wall of her bedroom. So the comeback against a representative of the rising Croatian team and as it seems the wind is blowing in favor of Croatia, the gold goes to Zagreb after a frankly boring final, decided by an accumulation of shidos.
Lara Cvjetko beats Szabina Gercksak
As for bronze, Portela and Tsunoda brought out the pride that great athletes cherish when things go wrong. They didn't want to leave empty-handed and with bad feelings in their bodies. The Brazilian beat Korean Heeju Han and the Spaniard managed her team. Gold and bronze are not the same but a medal is a medal.
The medals and checks were presented by Colonel Stefan Marginean, Head of the Military Commission of the International Judo Federation and Mr. Carlos Andrade, President of the General Assembly of the Portuguese Judo Federation.
-81 kg men: the relief of the champion
The Belgian Matthias Casse is expanding his record at a frantic pace: world champion, Olympic bronze, world number one! We can say that life smiles on him. However, there was one blemish on his resume; Matthias is not good with the Japanese and has lost his last four fights against them. In Lisbon came the fifth, Yuhei Oino, who is not Nagase, but Japanese is still Japanese and should not be taken lightly. Casse won the way champions do, with an authoritative ippon, something like an "I'm the boss, in case someone hasn't heard yet" message. It was like taking off your heels or loosening your tie after a full day at the office. That's why he reached the final focused but with less weight on his shoulders. The nerves were on the other side of the tatami and suffered by Oskari Makinen, a 22-year-old Finn who surprised everyone in Lisbon with boundless willpower and exceptional form. As he is ranked 115th on the world rankings list, he had nothing to lose against the category boss and these situations are usually the most dangerous for big fish.
Matthias Casse beats Oskari Makinen
Sure enough, Makinen walked out fearless, deadpan, as if it were a practice session. The problem is that Casse didn't find his world championship title in a cereal box. He showed it with class with eri-seoi-nage but what the Belgian did was more than win gold. Until now, he had never won a grand prize. To date, he is one of the few judokas to have won all possible titles on the World Judo Tour, i.e. grand prix, grand slam, masters and world championships. Casse builds an impressive calling card and as if that weren't enough, he looks the Japanese in the eye again.
Matthias Casse beats Oskari Makinen
Korea is very active in Portugal, France too. The first bronze was settled between Jonghoon Kim and Nicolas Chilard. The Korean took the lead with waza-ari and then played the clock with good ne-waza work. Tick-tock tick-tock, the French never found a way because the Koreans had closed it.
Finally, a duel between two great judo nations: Brazil and Japan. Guilherme Schmidt vs. Yuhei Oino fought but it wasn't a brilliant matchup. It ended with the elimination of the Brazilian because Oino was better and smarter but it was important for Japan because the country does not shine in Portugal with its young athletes and this is breaking news.
The medals and checks were presented by Mr. Vladimir Barta, Chief Sporting Director of the International Judo Federation and Mr. Antonio Martins Borrego, President of the Judicial Council of the Portuguese Judo Federation.
Only the third day remains. XXL sizes are coming, those that need more space on the plane and make a lot of noise when falling. Get ready, it smells good that we're going to be deafened!