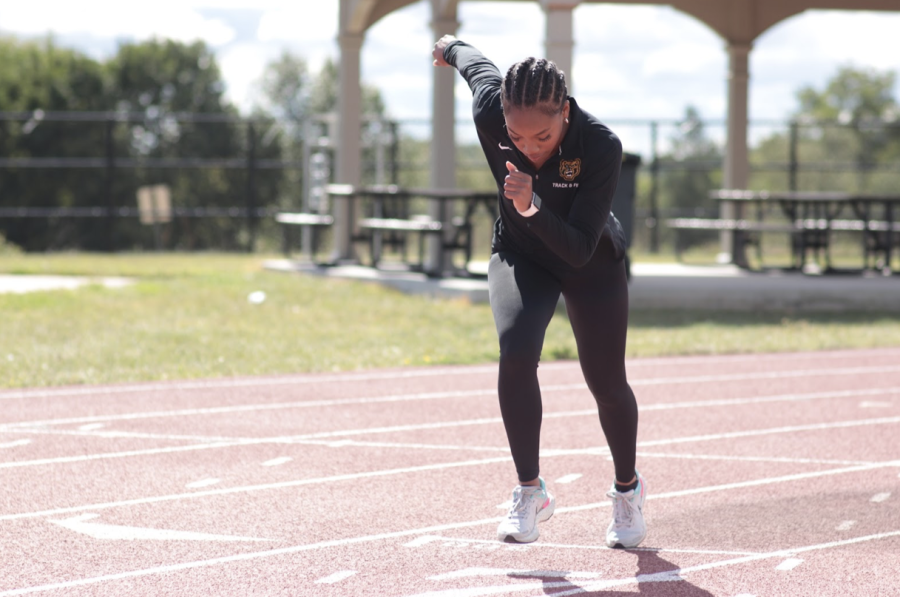 Track runner Angel Brandon has her eyes on the prize – The Oakland Post
Angel Brandon is a runway star who's ready to step out in style for her senior year. She is an elementary education major who will begin her student teaching program next fall, on her way to obtaining certification to teach K-8.
Brandon was born in California and hails from Flint. Her journey to becoming a runner began at the age of nine. Her older brother ran track in high school and college, so she was always under his command and wanted to be like him, following in his footsteps.
Her younger sister also races track, and Brandon being the person she looks up to is what motivates her and drives her to be the successful track runner that she is.
"I always want to show him that you can do it in college," she said.
When Brandon competes, she feels nothing can stop her.
"That's it – so that's what's constantly on my mind," Brandon said. "It's my last year, so might as well go out and give it my all and push myself even when it gets tough."
Just last year, she completed her first hurdle race after only competing in the 200 and 400 metres. Learning a new event and excelling in it makes Brandon a very ambitious athlete.
"It was the biggest achievement for me," she said. "I was 11th in the conference last year, and that's good for someone who's never done that before, so my goal is just to rank higher and do better now that I have this experience beneath me."
Running impacted Brandon's life and made her the person she is today.
"I think the race track has grown my confidence in a lot of ways," she said. "No one is going to believe in you until you believe in yourself. Your coaches can, your teammates can, but you have to want it for yourself, so that's what it taught me. From first year to today my confidence in the sport has grown, both as a person and as a team leader.
Running for Oakland reunited Brandon and his closest friends.
"[OU] gave me these bonds that I'm going to have and take with me forever, so the team in general is what makes the experience so much better," she said.
Brandon is a supporter of her teammates and aims to be a positive influence all around. Although this is her last year, she wants to leave the team knowing that she did her best.
"I want people to say, 'yeah, she tried hard. Yeah, she came out and gave it her all,'" Brandon said. "That's what I want to leave here in Oakland."
For those looking to follow a similar trajectory, Brandon advises not to take a single day for granted.
"Have a good support system, stay focused and [keep your] eyes on the prize," she said. "[…] Don't let time slip away and always push yourself.